Monitoring the Policing of Anti-Fracking Protests
Netpol believes the growing opposition around the country to fracking  and other extreme energy extraction methods represents the biggest test of public order policing over the next two years.
In June 2014, the Joseph Rowntree Reform Trust Ltd  awarded Netpol a grant to monitor the policing of future anti-fracking protests over two years from October 2014.
Funding will enable us to use the evidence we gather to campaign for a less antagonistic national policing strategy towards opponents of unconventional energy extraction (for shale oil and gas and coal bed methane, through 'fracking' and other controversial methods).
Netpol intends to actively support for the right of local people and their allies to protest their opposition to fracking. There is no reason why opponents should inevitably expect to face disproportionate oppressive policing and an increased risk of criminalisation just because their target is an expanding and lucrative industry with considerable government support. We plan to:
Assess the police strategies used at each local protest, by gathering the number and type of arrests, different or new charges brought, commonly occurring complaints of excessive or violent conduct by officers or any creative use (or misuse) of different legislation by Silver and Gold Commanders.
Assist local campaigners to identify the extent of potential police surveillance of their activities.
Analyse the information gathered to develop a critique of changing tactics that have the potential to deprive local people of the ability to freely and safely engaged in protest.
Utilise this analysis to publicise trends that raise specific concerns and to put pressure on public bodies that have responsibilities for police accountability.
Learn from our analysis to inform the training of local legal observers, to ensure that solicitors defending arrestees are better prepared and to engage directly with local campaign groups and national networks such as Frack Off and No Dash for Gas by briefing them on emerging police strategies.
Netpol member Green and Black Cross is also available to provide training for local legal observers for new anti-fracking camps, having already done so at Daneshill in Nottinghamshire.
What does Netpol hope to achieve?
An increased level of skills and understanding amongst local and national unconventional energy campaigners about how to pro-actively defend their right to protest, by incorporating legal observer and civil rights training into their activities.
Greater collaboration between the groups we work with in seeking to influence policy on the police response to their protests and to challenge excessive or inappropriate policing.
A coalition of increased support nationally, including elected representatives and wider campaign networks, for a less antagonistic national policing strategy towards opponents of unconventional energy.
A greater understanding by policy and decision makers and the media of how the police response to individual local campaigns impacts on human rights and the freedom of assembly.
Greater recognition amongst solicitors and barristers of the legal and political implications of new police tactics
Please get in contact if you can help – email Kevin Blowe (Netpol Coordinator) at kevin@netpol.org
 Recent updates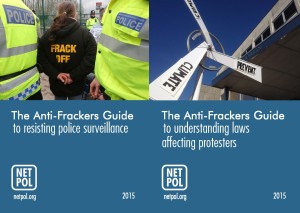 Read our Guides for Anti-Fracking Campaigners.