A discussion on "The End of Policing" in London, March 2018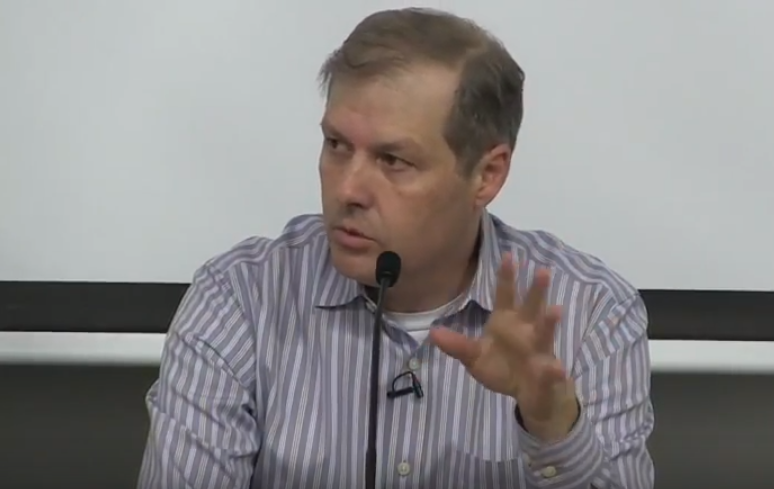 Alex Vitale, Professor of Sociology and coordinator of the Policing and Social Justice Project at Brooklyn College in New York, was in London on 15 March to talk about his book "The End of Policing" with the Executive Director of INQUEST, Deborah Coles, at a sold-out event organised by Netpol and CCJS.
As space was limited and so many people were, therefore, unable to attend, the discussion was filmed (by Gathering Place Films) and is now available online.
This book aims to spark a public debate on the origins and history of modern policing that have shaped it into a tool of coercive social control. Drawing on research from around the world and covering the increasingly broad areas of social issues that have become "law enforcement issues", it sets out to demonstrate now policing has come to exacerbate the very problems it is supposed to solve.
It shows how the expansion of police authority – and the demand for more and more police officers – is inconsistent with community empowerment, social justice, or even crime reduction.
Netpol reviewed Alex's book in September 2107 – you can read what we thought of it here.
'The End of Policing' by Alex S Vitale, published by Verso, October 2017
During the 2017 UK general election, the Police Federation ran an extremely successful campaign, eventually taken up for different motivations by both the Labour Party's left-wing leadership and the right-wing press, arguing a direct link between falling police numbers and rising levels of crime.
Since then, only Rebecca Roberts from the Centre for Crime and Justice Studies (CCJS) has been able to offer any challenge to this idea within the mainstream media. Police numbers have undoubtedly reduced since 2010 but still remain at historically high levels after years of growth. Nevertheless, this explanation for an increase in some types of crime has become an accepted truth: questioning the need for more police officers is seen as straying far outside the Overton window of political acceptability.
'The End of Policing', a new book by Brooklyn associate professor Alex S Vitale, goes much further, however, by posing questions that seem almost unthinkable in the US (its main focus) or here in the UK.
What if we really need significantly fewer police officers and more attention to alternatives that are less coercive? What if the police are wholly unsuited to solving many of the problems the state asks them to deal with? Read more